What is a Wear and Go Glueless Wig: All Your Concern about it
Jun 10,2023 | OhMyPretty
Since the wear and go glueless wig entered the public eye, it has quickly become the most popular wig, but for wig beginners, you may not know about this new wig. This post will answer what is a wear and go glueless wig and all the questions you may worry about. You will learn why this wig is so popular of this wig and how to choose the best quality wear and go glueless wigs, keep reading.
What is a wear and go glueless wig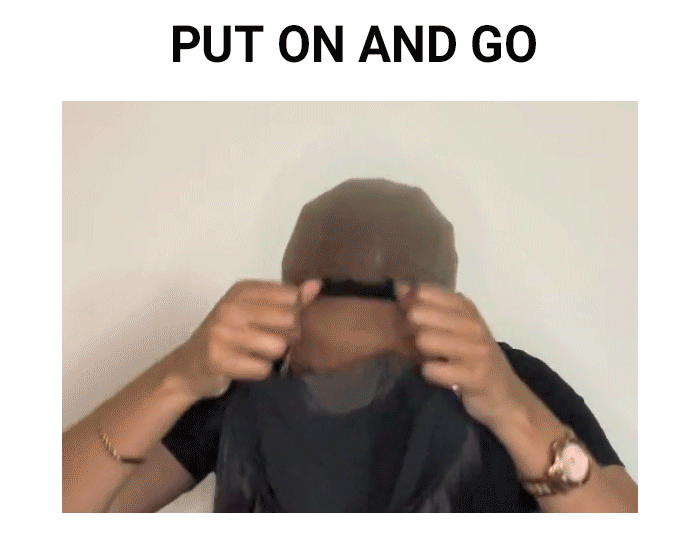 To put it simply, wear and go glueless wigs are wigs with pre-plucked natural hairline and pre-cut lace, which is very beginner-friendly and suit for our daily wear. This wig can achieve 3 seconds of wear and is ready to go. You can get a different outlook and appearance every day in just several minutes. And the wear and go glueless wig-wearing methods are very concise. You can wear it without glue, no gel, and no other tools to wear a wig. So, the wear and go wig can be the most time and labor saving wig.
The benefits of wear and go glueless wig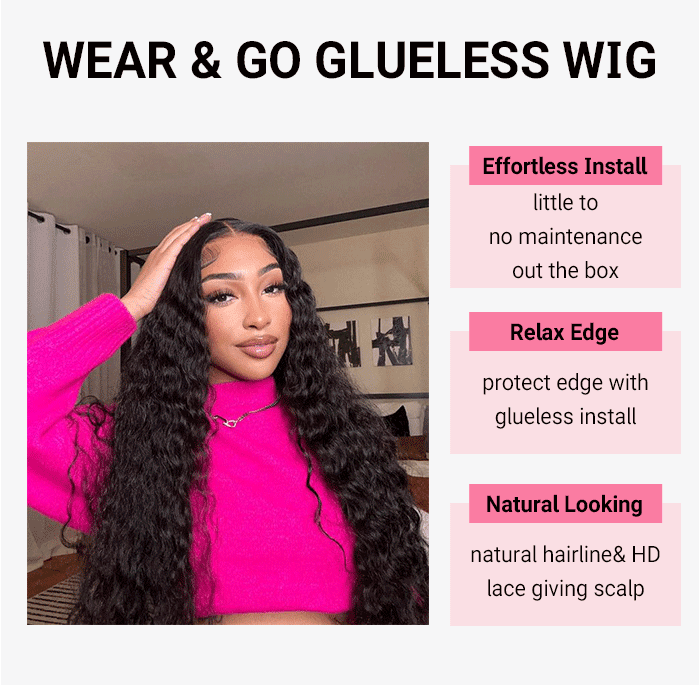 1.Pre-plucked Hairline
The wear and go glueless wigs with pre-plucked hairline can be very natural and convenient when we wear a wig, if you want to change your look by wearing a wig, this wig can help you change it and cost the shortest time. Think about it, what a mess a wig can be if it's not pre-plucked: you should precondition the hairline of a wig when you first wear it, and you must pluck the hair alongside your natural hairline if you pluck the useful hair or pluck the hair not neat, the whole wig is ruined.
2.Pre-cut Lace
Save your time on cutting lace, very convenient and fast. This is the same reason for the pre-plucked hairline. You can easily cut the wrong place, after all, not everyone has the experience of cutting lace. So, if you are a beginner, you'd better buy a wig with that pre-plucked hairline and pre-cut lace, this will save you a lot of money and time.
3.Throw on & Go
No glue is needed just wear it and go, no skill is needed, easy to install, and very beginner friendly. Even on a hush morning, getting a sophisticated haircut isn't a problem either. You can wear the wear and go wig just like wearing a cap on your head, the wig can become one part of your life easily. You can throw on the wig and go in several minutes.
4.Real Glueless
Dome cap with an elastic band, different from normal lace wig cap, don't wear the wig use glue, really no glue, no gel or other tools, real glueless. This wig is not only convenient but also healthy, and can better protect the scalp. Health is an important element of a wig, when you choose a wig, you should consider this first. Bad-quality wigs can be very heavy and allergenic, which can influence the wig-wearing effect and even cause serious consequences.
5.Secured Enough
Fixed with an elastic band, not easy to fall off even without glue. Just adjust the adjusted band before you wear it. You can measure your head circumference and adjust it to the appropriate place, not too tight or too loose, and then put on the wig to see if it is firmly attached to your head. and you can use this circumference the next time you wear it, don't have to adjust it every time.
6.Easy to Maintain
The wear and go glueless wig do not need glue or gel when you wear it, so it is not easy to wear out, just comb it use a wide-tooth comb in daily wear and properly store it, the wig can always be new. And the hair care and cleaning steps are simple that will not cost you much time in this procedure. Only need to wash it every 6-8 wigs.
How to keep a wear and go glueless wig from falling off
Why it slides
You may find someone side the glueless wig is easy to fall off, that's because they don't know the correct wig-wearing methods and wig care knowledge. By reading this post, you will get the strongest way to wear a wig that can keep it on your head all day long.
1.Wig needs cleaning: When we wear a wig, we will cause a lot of sweat and oil on our head, this is the top reason that your wig is easy to fall off.
2.Wearing method is incorrect: You may not be adjusting the straps to the most appropriate position, which can cause the wig to slip off easily. You can check out and readjust it.
How to keep it from slide
1.Wear a wig cap: A wig cap can not only wrap your whole natural hair and prevent it from falling off but also can keep a wear and go wig from sliding. The wig cap you wear on the head can enhance the friction between the wig and your head, and play a certain fixed role.
2.Use wig liners: This can trap the sweat from your scalp, and keep the wig from falling off. Use wig liners if you're worried about getting stuffy in the summer with wigs.
3.Timely cleaning of the wig: When the wig is worn for a long time, it must be cleaned in time, and if it is not cleaned for a long time, the hair will be attached to a lot of dirty things and grease, not only the shape will be affected, but also the comfort of wearing.
How to install wear and go glueless wigs human hair
In only 3 steps in 3 seconds, you can get a new look by wearing wear and go wig.
Step 1: Fold the lace part of the wig to make it easier to wear.
Step 2: Lower your head, align the wig with your hairline, now fasten the adjusted band on your head, and then place the wig on your head.
Step 3: Adjust the wig to a neat and tidy condition, then you're done.
Best wear and go glueless wigs in Ohmypretty Hair
1.Wear and Go Glueless Body Wave Wig, 4×6 HD lace closure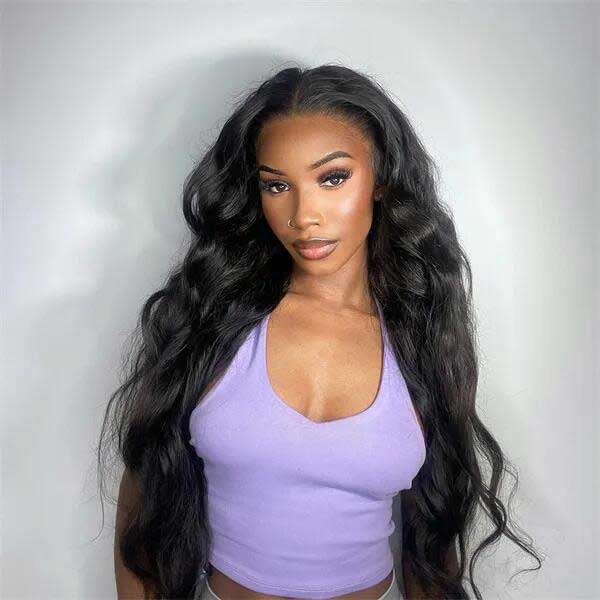 2.Wear and Go Glueless Water Wave Wig, 4×6 HD Lace Closure Wig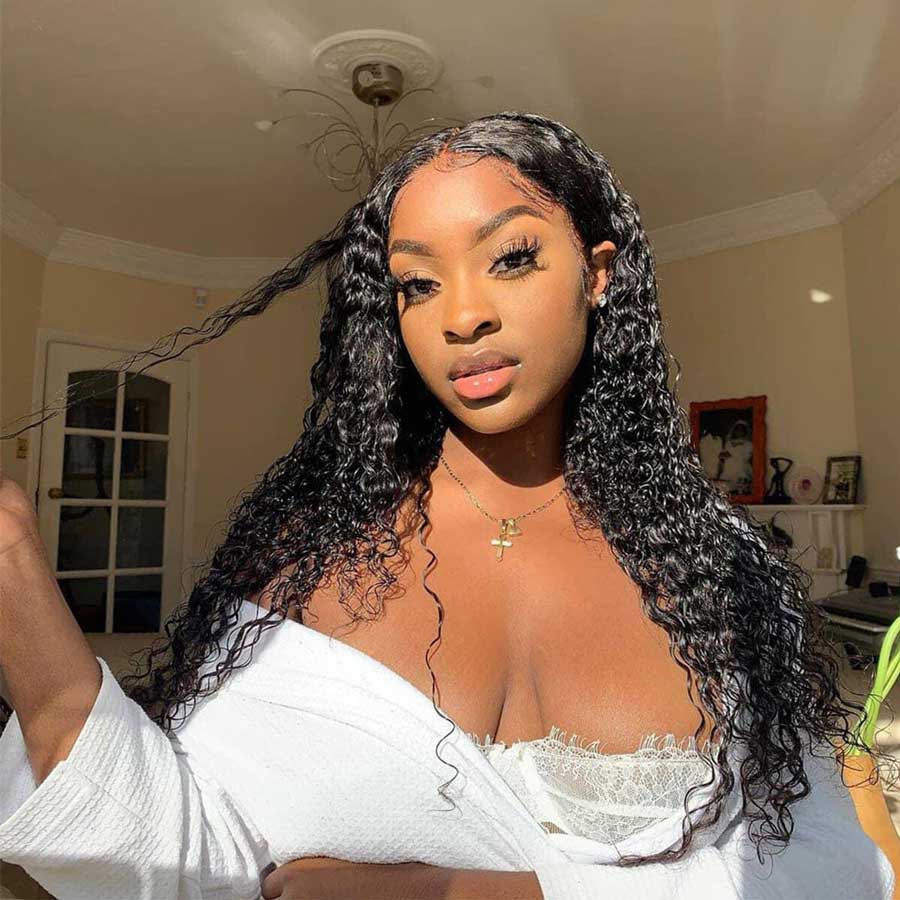 3.Glueless Wear and Go Kinky Straight Wig, 4×6 HD Lace Closure Wig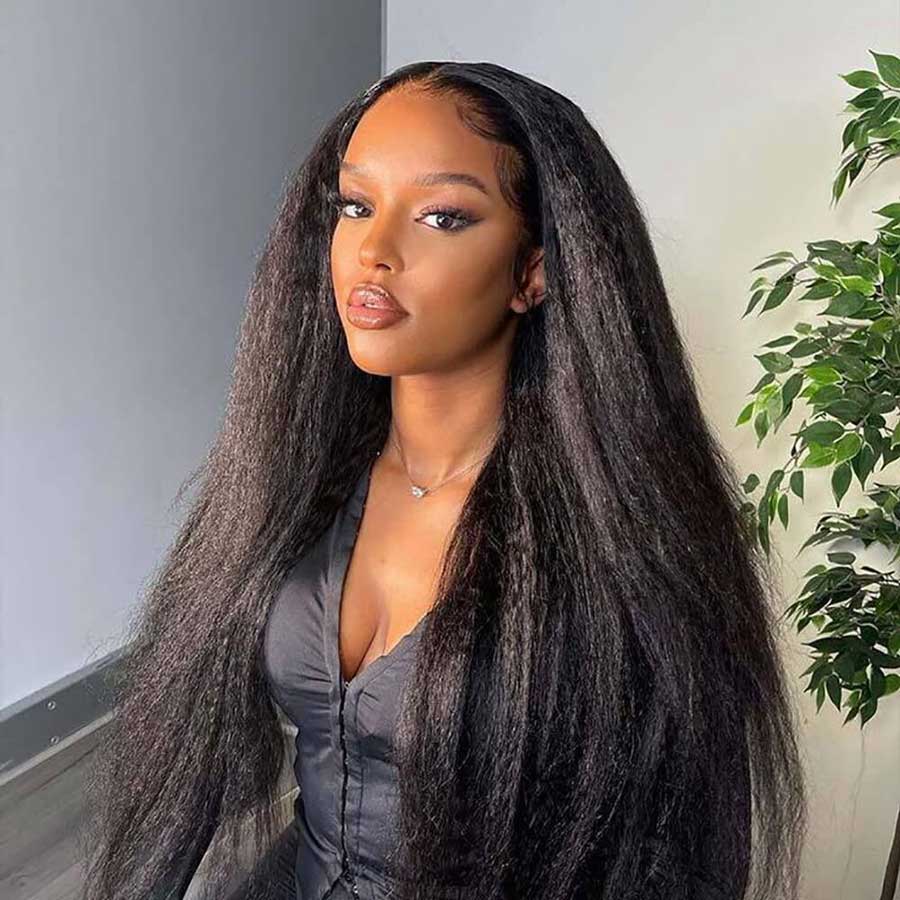 4.Glueless Loose Deep Wave Wig, HD Lace Closure Wig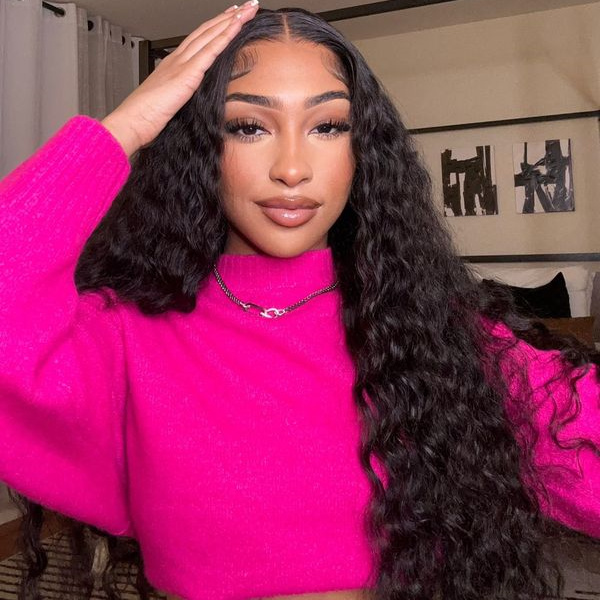 5.Glueless Highlight Brown Straight Lace Closure Wig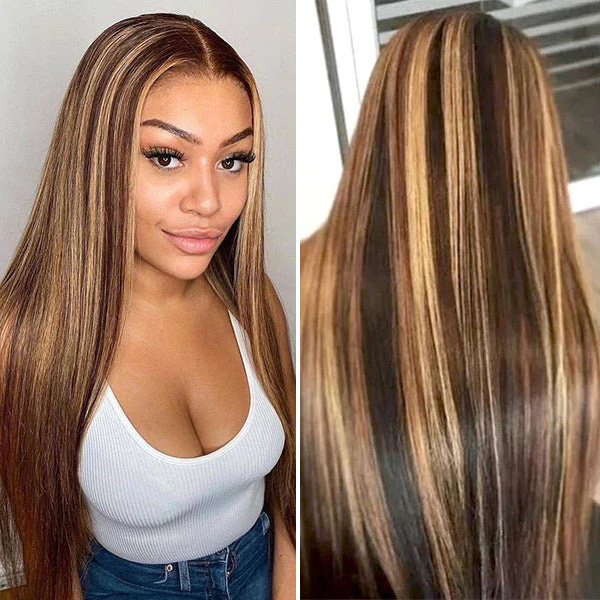 6.Glueless Kinky Curly 4×6 HD HD Lace Closure Wig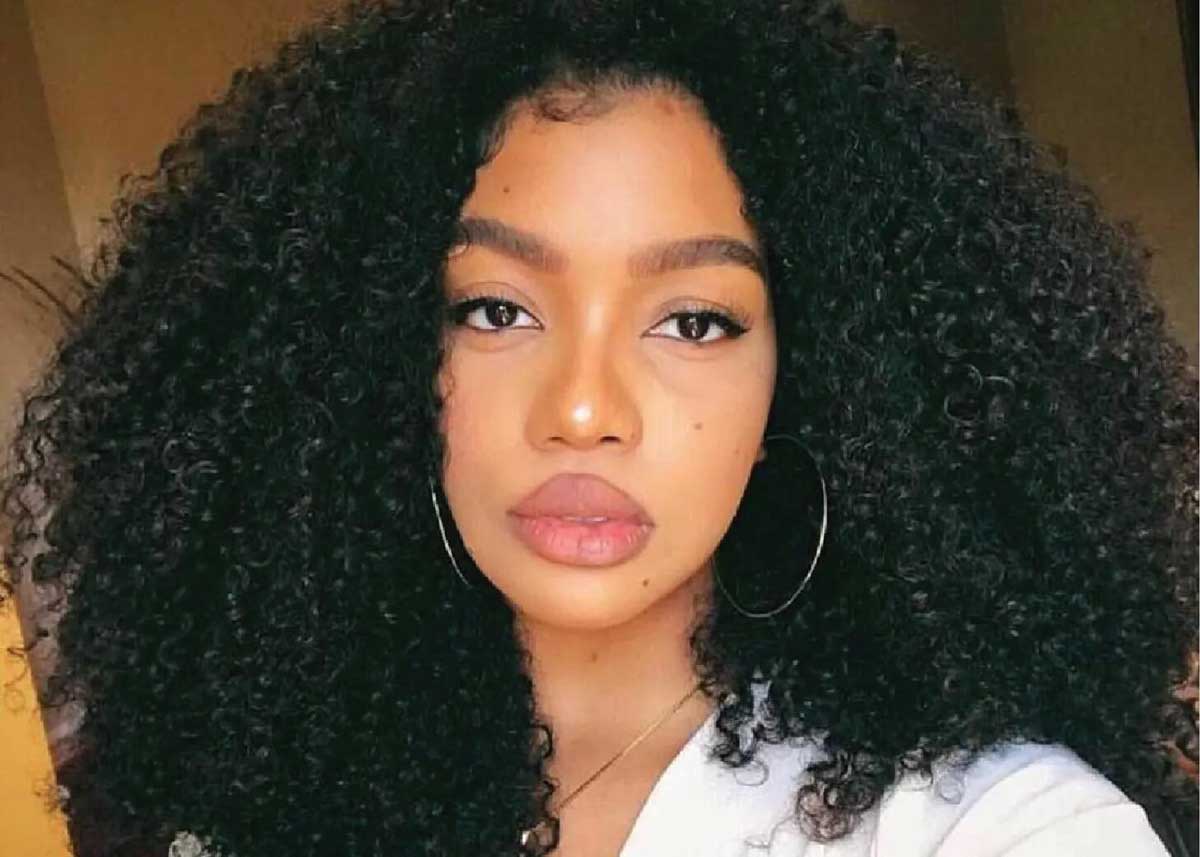 Final words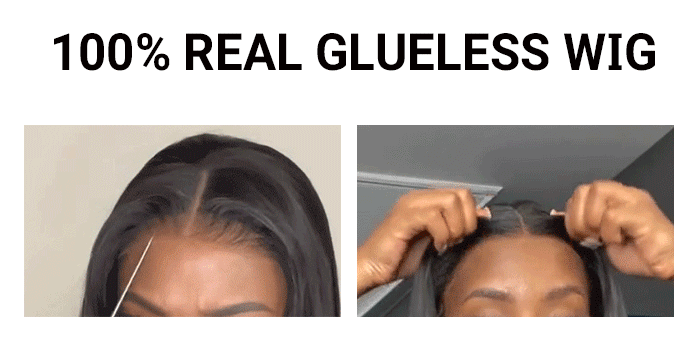 Pre-plucked hairline, pre-cut lace, throw on & go, real glueless, secured enough, easy to maintain these all are the feature of the wear and go glueless wigs. By reading this post, you can see how practical and convenient the wig is. Come to ohmypretty.com and pick a wig that you like.
Comment