My First Wig: Why I Choose Wear and Go Glueless Wigs
Aug 11,2023 | OhMyPretty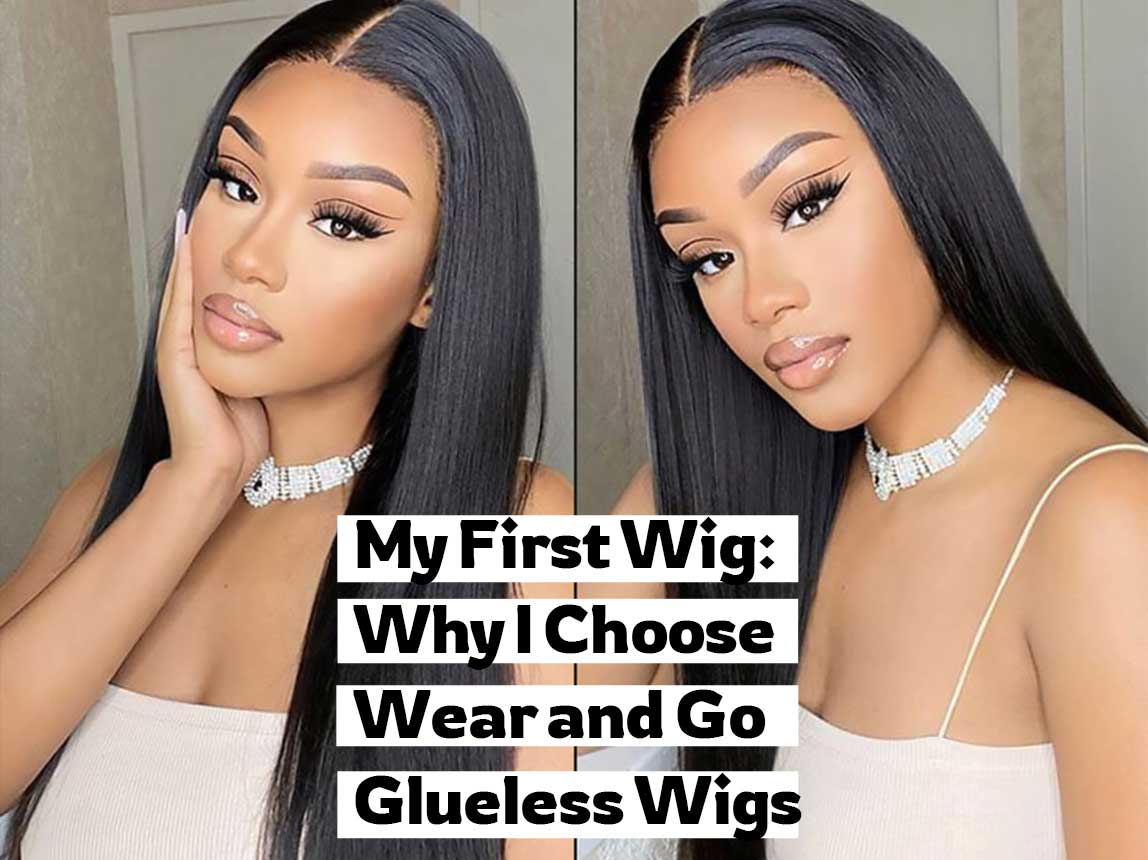 What is your first wig? For wig beginners, most people's first wig would be the Wear and go glueless wig. Because of its super beginner-friendly characteristics as well as convenient and quick design and comfortable materials, this wig quickly swept the market.
What are the wear and go glueless wigs
Wear and go wig is a wig that with pre-plucked hairline, pre-cut lace, and can even be bleached, super lightweight, breathable, comfortable, and convenient. All the advantages in one, really glueless, no gel, no other tools and skill needed, can be worn within 3 seconds and is very beginner friendly.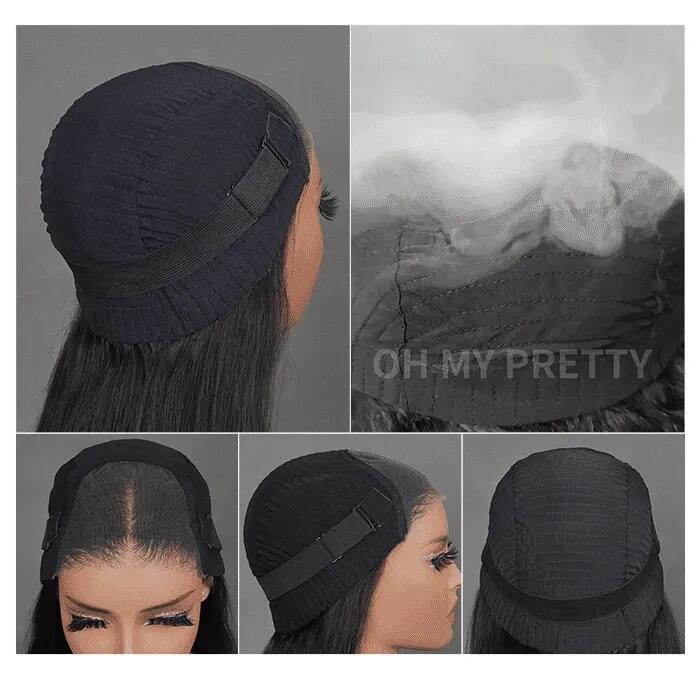 Pre-plucked hairline: It completely mimics human scalp plucking, with the same density as real hair. Hairline from dense to sparse, not rigid and stiff.
Pre-cut lace: Use the unique serrated hot scissors to cut zigzag lace edges, which can better melt with your scalp and help you save time and energy.
Beginner friendly: No glue, no gel, and no other tools needed, even no skill needed, can be worn in 3 seconds, is super beginner-friendly, and can be invisible and natural at the same time.
4. Advanced design: 3D dome cap makes the wig wrap your head better, breathable, and comfortable. There is an elastic band inside of the wig, do not use the heavy and uncomfortable wig clips, gives you a safe wearing experience and at the same time, it is comfortable.
How to choose a wig if you are a wig beginner?
For a wig beginner, you may very doubt what the difference between all kinds of wigs is and which wig is best for the beginner. Now, I will tell you the methods for a wig beginner to choose a wig that suits you.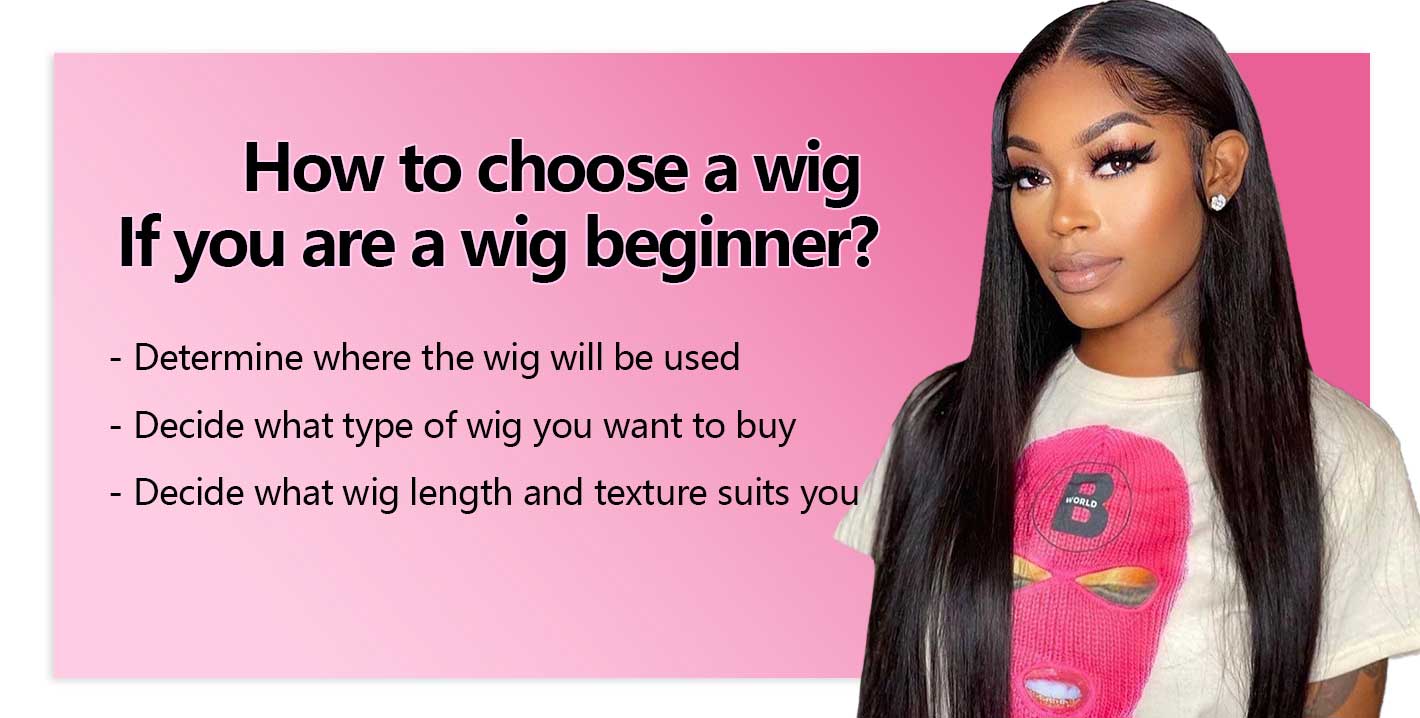 Determine where the wig will be used.
The function of the wig will decide what type of wig will suit you. If you want to buy a wig that suit for daily life wear, you can choose a natural black or brown glueless hair, that can fit your own hair color best and you can wear it every day, whether wearing it to work or school, no one will perception that you wear a wig. The wig with pre-plucked hairline plus the real human hair will be super invisible and undetectable.
If you are gonging to the party, the beautiful colored wig can help you stand out from the crowd. There are many shining color wigs ready for you: blonde, reddish brown, burgundy, and even some very rare color on the street such as purple, blue, red, and green. This wig maybe not be suited for work and school, but for the party and the banquet, it is perfect.
Decide what type of wig you want to buy
Now there are mainly two types of wigs that are hot sale on the market: the glueless wig and the traditional wig that need glue. If you have plenty of time and have much time to do a hairstyle, you can choose the wig that needs glue. This wig with some extra lace on the front of the wig, you can glue it to your hairline when you wear it, and this process often will cost a lot of time. But the advantage of this wig is you can wear this wig for a long time, even for 2-3 weeks. And because of the glue, the wig will stick to your head firmly, you can do anything even do sports, and don't need to worry it will fall off.
If you are a busy woman, and you don't have o lot of time to deal with your hair, the glueless wig is your best choice. It does not need complex wearing steps and a variety of tools, you can get a finished wig and just put on your head and go. The whole process will not cost you 1 minute, and it also doesn't need the wig glue, very healthy and friendly to our scalp.
Decide what wig length and texture suits you
Wig length is an important element to decide whether the wig is beautiful or not. Not very hairstyle suit for the everyone. If you have ever tried a different hairstyle, you will know this. You can choose the wig length according to your face shape or experience to decide what wig suit you best. Of course, you can try some different hairstyles by using a wig. If you don't want to make a mistake, you'd better try a similar hairstyle to your own hair.
About the hair texture, this is an easy question. Wig length may influence the aesthetic degree but the hair texture will not, as long as you don't go overboard with your hairstyle. You can try body wave, water wave, kinky straight whatever you like. If you're really afraid of making a mistake, buy a straight wig, you can change the hairstyle by yourself when you want to make some changes.
Final words
If you haven't tried a wig yet, choose wear and go glueless wigs as your first wig! There are many glueless wigs in the OhMyPretty store, welcome come and pick.
Comment