How to Put on a Wig: Detail Guide for Beginner
May 12,2023 | OhMyPretty
Putting on a wig is easy, just need some common tools and methods, and you can get a new hairstyle. If you are a beginner of the wig, you must really want to know how to put a wig on and what should be noticed when you wearing a wig. Now, I'll make a detailed tutorial to help you quickly learn how to put on a wig.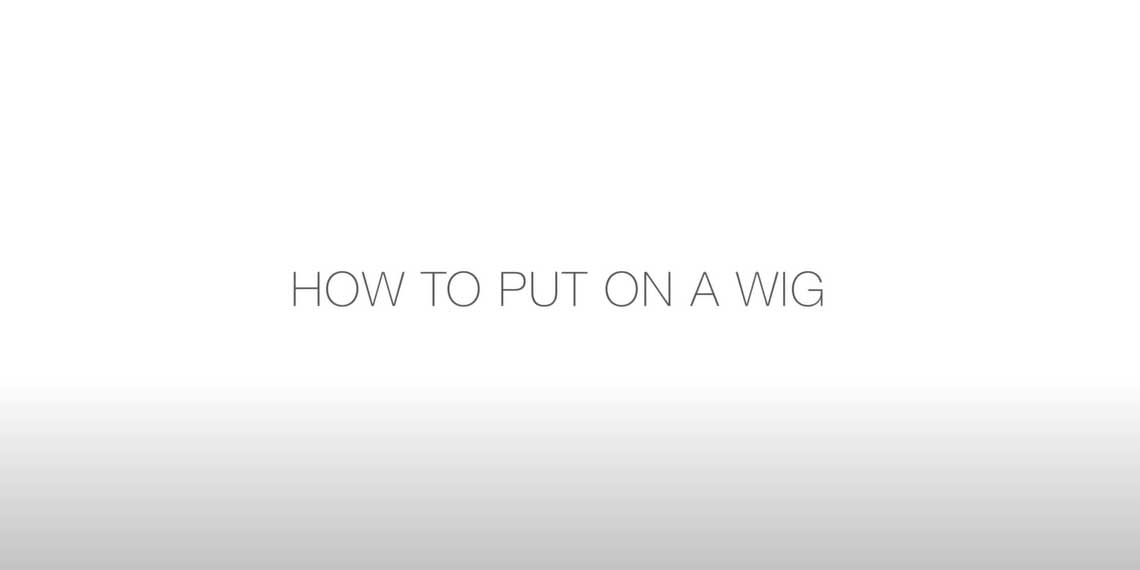 Before you put on a wig
1.Choose the best wig for you, you can pick a wig that is in your favorite color, texture, length, and so on. And the wig should suit your head circumference which can make sure you wear it more comfortably.
2.Make sure the wig is clean, this is an important element that whether your wig can achieve the best-wearing effect or not. If your wig is not clean, it will be very frizzy and dry.
3.Prepare the tools that need to be used, this is the first step that you should do before you wear a wig, I don't need to tell you why. It will make you easier when you are put on a wig.
Step-by-step on how to put on a wig
Tools to be prepared to put on a wig
bobby pins
mesh or nylon
hair comb
detailed steps:
Step 1:
Make sure your own nature is as smooth as possible. If your hair is long, you can use the bobby pins to put your hair up on your head. Then put on a wig cap to wrap your natural hair to make it much safer.
If your hair is short or no hair, you can wear the wig cap directly.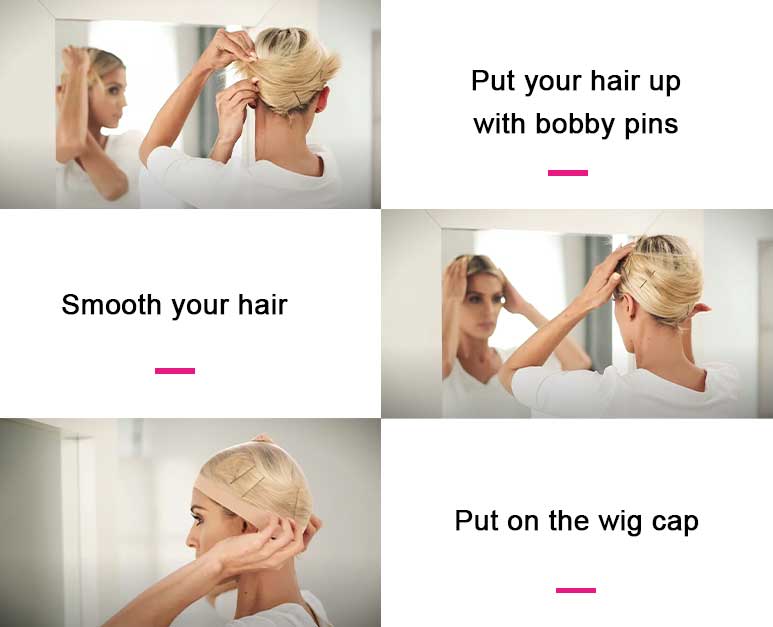 Step 2:
Adjust the straps inside of the wig to the size that suits your head. This step will decide whether the wig will fall off or not. If the wig is too small, you will not wear it or make you uncomfortable when you wear it all day. And if the wig is too large, it is easy to fall off.
Then place the wig in front of your hairline and put on the wig.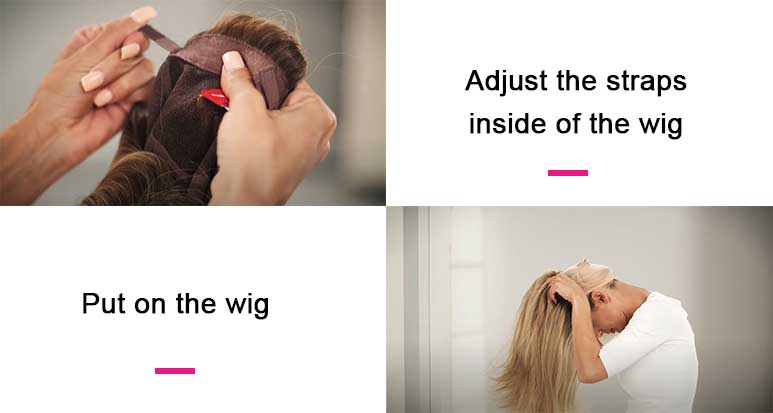 Step 3:
After you put on a wig, adjust it to the right place and make sure the hairline of the wig can cover your own hairline. And the hair around the ear is all covered by the lace of the wig.
Untangle the hair using a wide-tooth comb to make sure the wig is not having a knot and keep it in a smooth condition. And also, you can style the wig to your desire.
This is the detailed guide on how to how to put on wig, this is suit for the glueless lace wig. Because the wearing process is not using any glue. And the wig will stick to your head directly. The wig that does not need glue is suited for daily wear and can achieve an amazing wearing effect in several minutes. Except for the glueless wig, there also has a most popular wig that needs glue, if your wig is need glue, you can read this article: Curly Lace Front Wigs Dye and Install for Beginner, you will get the method of how to dye and install a lace front wig use glue.
Tips for everyday wig wearing
Now, you know how to put on a wig already, so you must want to know some detailed wearing tips so that you can wear a wig for a long time. The service life and wearing effect of a wig are relative to your wearing method and care in your daily life. You must be curious why the influencer and the star can wear a wig that nobody can perceive. Now I'll give you some wig-wearing tips so that you can wear it more naturally and keep your wigs new.
1.Wear a wig cap
The purpose of wearing a wig cap is to wrap your natural hair so that you can achieve the most natural effect. Think about it, if you wear a blonde color wig then your own black hair is exposed on the outside, it's embarrassing. And at the same time, wearing a wig cap can help you get a much more beautiful wearing effect because if you don't wear a wig cap, the head will be very large after you wear a wig. The wig cap can reduce the volume of your own hair so that you can wear a wig just like your own hair.
Don't think this is a waste, the wig cap can be reused all the time. After you wear a wig for once, you can wash the wig cap and reuse it the next time. If you buy the wig from ohmypretty.com, we will have two wig caps for you as a gift, you can alternate it when you wash the wig cap.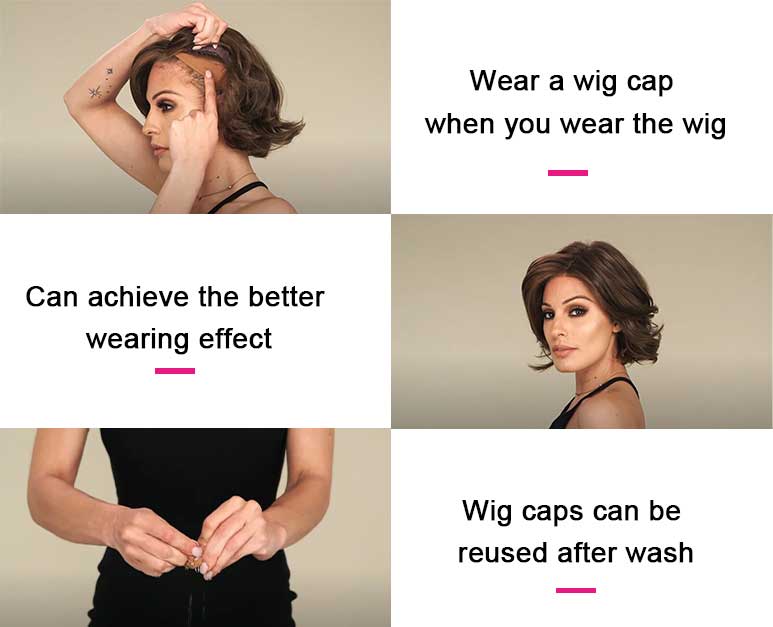 2.Use wig liners
Maybe the temperature outside is quite hot in the summer, there will be much sweat and oil inside the wig when you wear it outside. So, you can buy some wig liners and put them in your wig and you will find the sweat and oil are all absorbed by the liners. This method not only suits summer, but it also suits women who easy to head oil. Wearing it, your head will be clean and refreshing. Give you a better wearing experience.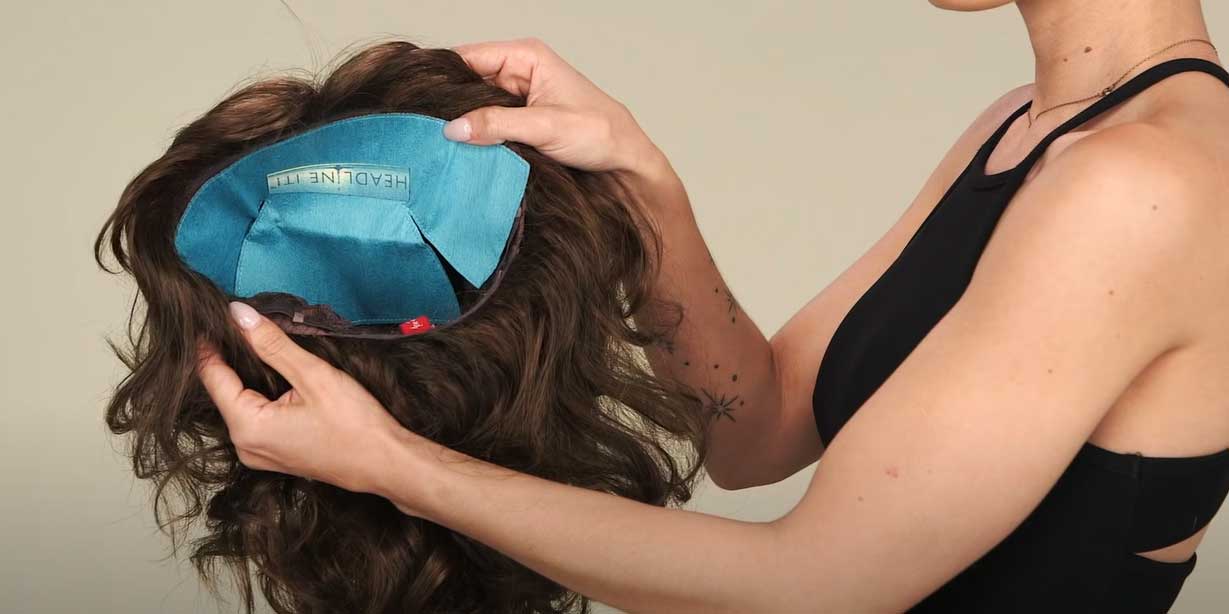 3.Timely cleaning of the wig
The best cycle to clean a wig is after 8-10 wears. The more your wig keep clean, the better-wearing effect it will be. If you do not wash the wig in time, the wig will be frizzy and will reduce the service time of the wig. If you do not clean it timely, the hair of the wig will be easy to shedding and knot. If you treat your wig with a proper method, a wig can be worn for 1 or 2 years or even longer.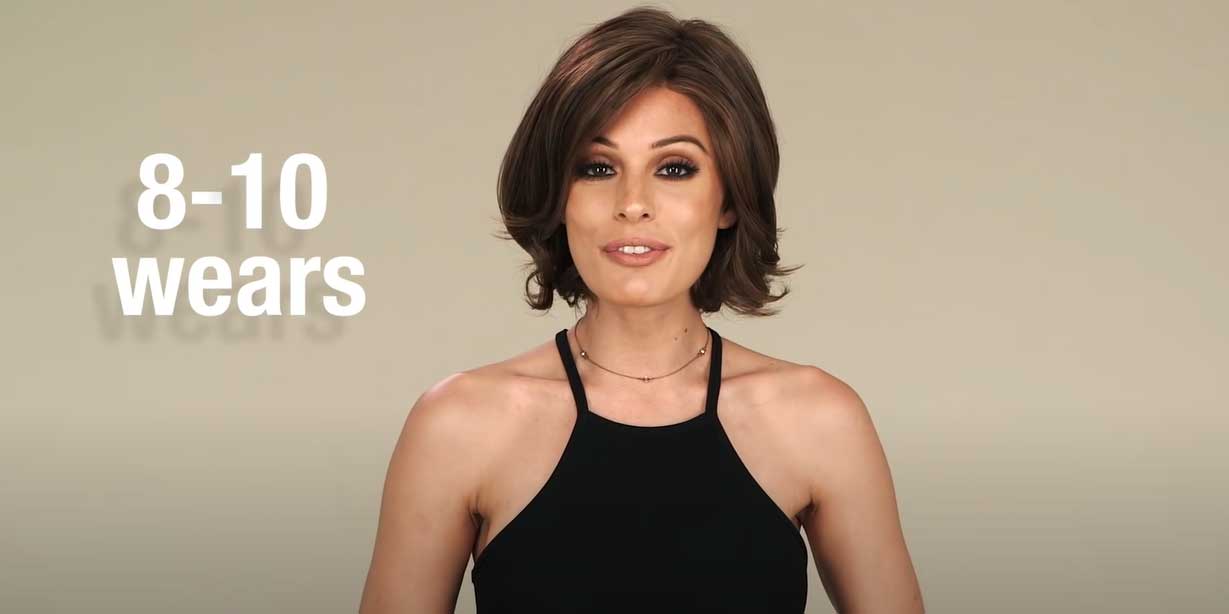 4.Measure your head circumference
This step will help you wear the wig more comfortably. Generally speaking, there will have adjusted straps on the side of the wig, if your wig is not suiting your head, you can adjust it to a comfortable size. Then you put on a wig and you will not feel tight when you wear the wig even if you wear it all day.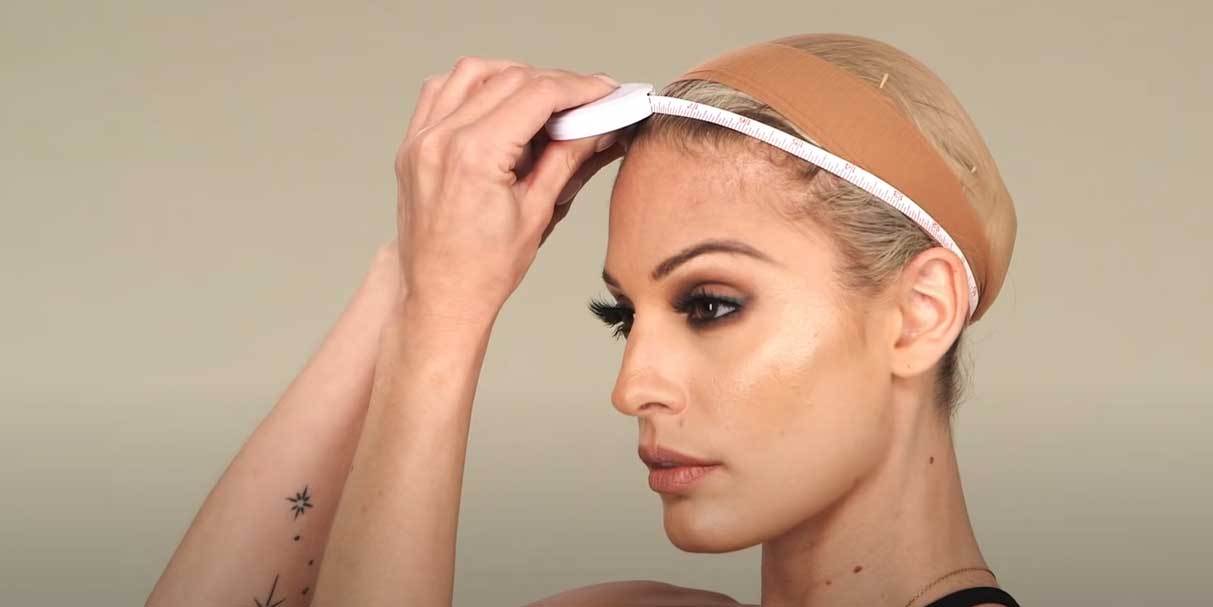 5.Store the wig properly
This is an important step when after you wear a wig. And it can make your wig always looks new. You can buy some foam models to store your wigs and put them in the cabinet to make sure there will not have any friction to the wig.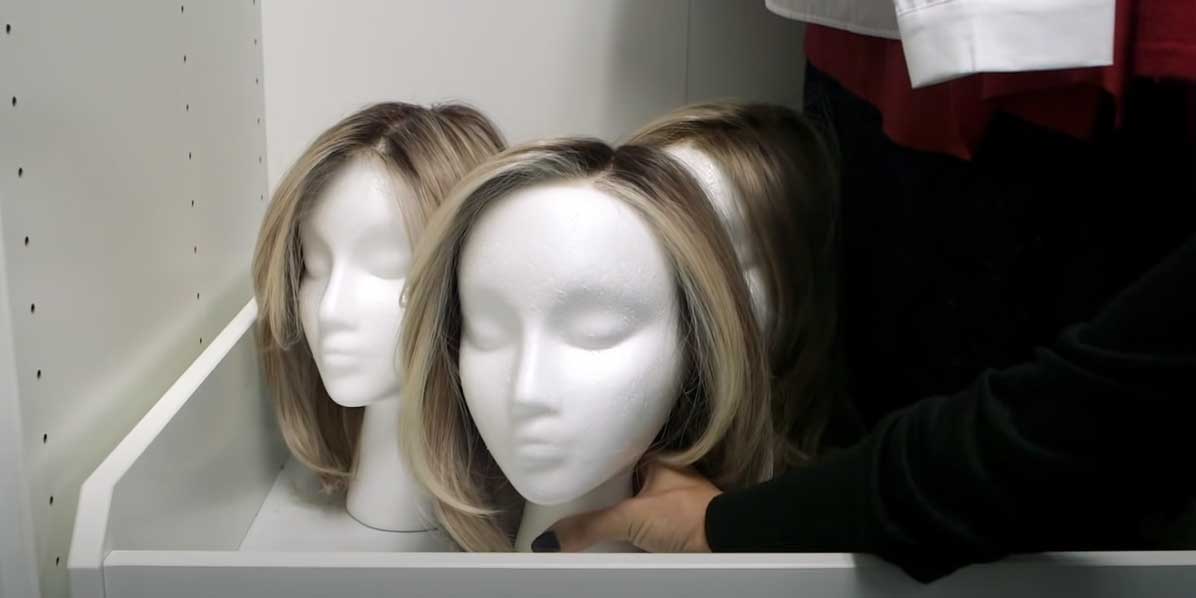 6.Use a wide-tooth comb
Place give up using the comb that you use to comb your own hair, this comb will create large friction to the hair and will make the wig not silky and smooth anymore. The wide-tooth comb can untangle the knot of the wig and can prevent hair shedding effectively.
Final words
The wig-wearing is easy, right? Now you have already known the methods of how to put on a wig and some practical tips you should notice when you wear a wig. if you are interested, you can visit our store, we have various types of glueless wigs in many textures. You can try what you just learned to the test of how to put on a wig.
Comment