How to Install HD Lace Front Wigs Most Naturall
Apr 24,2023 | OhMyPretty
As a beginner, You may be wondering how to install a HD lace front wig, so today we will bring you the most detailed, the most natural wig wearing tutorial, so that you can get started faster. Lace wigs have many advantages, including the fact that it fits securely on your head, just like your own hair, and fits naturally into your scalp.
Before you install HD lace front wigs
Check the product. First, check that the product you are getting is the model you bought, including length, density, texture, color, etc. Most importantly, if you are buying real hair, check that the product label has a 100% human hair label. In general, wigs are soft and smooth when you get them, and of course, you can groom them again.
Tools to be prepared
A wig
Wide tooth comb
Rubber scrunchie
Hair cap
Special glue for wig
Scissors
Liquid foundation
Steps to install HD lace front wigs to make it more natural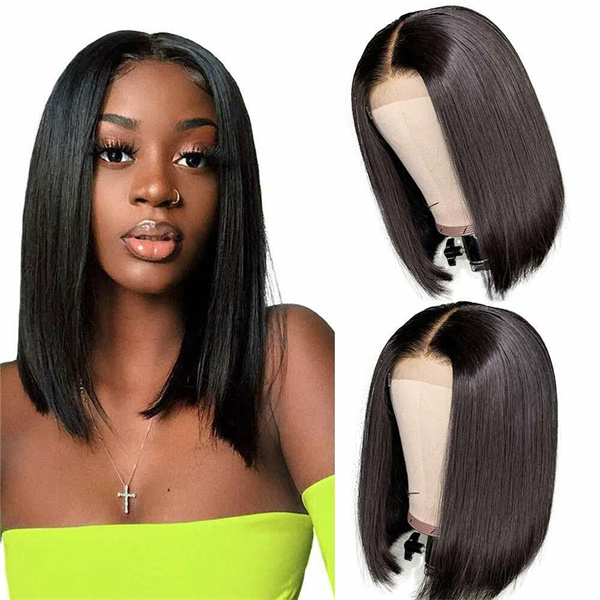 Step1: Wear a wig cap
If you wear a wig a lot and shave your head, skip this step. If you have short hair, tie your hair in a low ponytail at the back of your head, making sure it's very smooth and there aren't any bits sticking out. If you have long hair, then a wig cap is a must. You can tie up your hair and then wrap it in a wig cap. Glue should be applied to your hairline to fit the wig cap into your scalp. This step is especially important to prevent your real hair from showing after wearing the wig.
Step2: Put on a wig
You can apply the lace edge with a liquid foundation that is the same color as your skin, so that when you're done making up, you can make sure that the wig is the same color as your face. Then you lower your head, put the wig on from behind, and adjust the wig into place, usually covering the front of the cap a little bit, before moving on to the next step.
Step3: Apply glue
You can put a headband on your head to hold the wig in place, then lift up the lace edge of the wig and apply glue along your forehead and hairline, using a small tool. Don't spread the glue all over the place or apply too little so the wig won't stick properly. After the glue is coated, do not paste it immediately. When the glue is just coated, it is generally white. We should wait for the glue to become transparent before pasting it. At this point, the lace paste is complete.
Step4: Tidy up
You can comb the wig with a wide tooth comb to keep it in a flat condition. Arrange the parting and hairline to make the wig look more natural. Or you can use curling irons to style wigs. If you have straight hair, it's okay to use a curling iron to flatten it out, or to create curls. If you feel that the parting is not very natural, you can use liquid foundation to coat the hair seam, can be more invisible. Once you've fixed the wig and the glue is in place, it's time to move on.
Step5: Cut the lace
Remove the headband from your head and use scissors to cut the excess lace. This step is very important, be careful to look at the hairline position, don't cut too much. If you cut your hair, there's no way to make it up. Cut off any excess lace in front of your forehead, and there may be a small area that is not covered in glue. You can take the metal handle of the comb and dip it in glue to strengthen the edge of the lace. You can also heat the metal handle with a water blower and place it on the edge of the lace to set the shape. This step is very important, can prevent the wig wearing after warping, prolong the wig wearing time.
If you don't understand some steps while reading, you can watch it in conjunction with the video.
Other questions about HD lace front wigs' install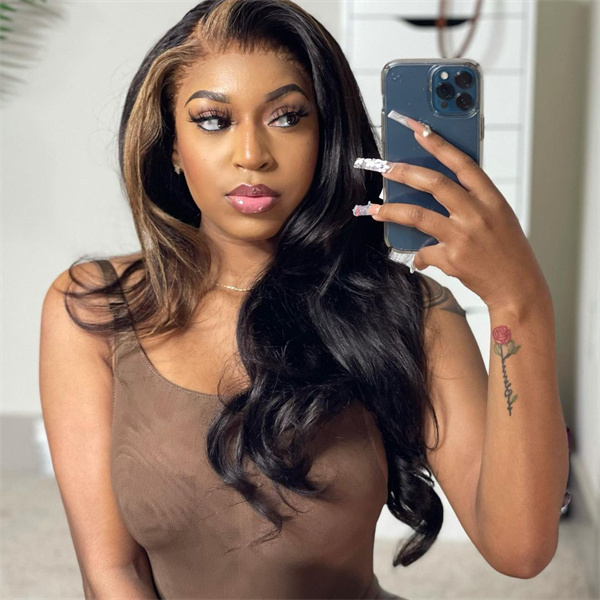 1.How long it takes to wear a HD lace front wig
Generally speaking, beginners just start to contact the wig will wear a little slower, generally within 30 minutes can be completed. If you wear a wig regularly, you can usually get it back on within 12 to 20 minutes when you get good at it. It takes a little longer to wear a wig, but it's a lot less work because you don't have to bother for a week or two.
2.How long does HD lace front wig install last?
A lace wig can usually be worn for two weeks. Most people choose to take them off and wash them once every two weeks. Some people choose to wash once a week. When you buy the wig, we will give you a silk hair cover. Before you go to bed, you need to put the hair cover on your head, which can effectively prevent your hair from getting tangled up in the morning.
3.Can I take off my HD lace front wig every day?
This is generally not recommended. You can also see that our lace is made of very thin and light material. Although it is very sturdy, improper use of it will accelerate the wear and tear of the wig and reduce its service life. If you take it off every day, the wig needs to be cleaned timely because of residual glue, otherwise it will affect the next wearing. So, we don't recommend taking off a lace front wig every day. If you really don't want to sleep in a wig, you can opt for a glueless wig, which requires no glue and can be removed after wearing it every day.
Final words
The above is the HD lace wig install steps, cannot be more detailed than this. By following these steps, you can achieve a natural and invisible wig that no one can spot. Wearing a wig is not a difficult process, and believe in yourself that you can do it.
Comment